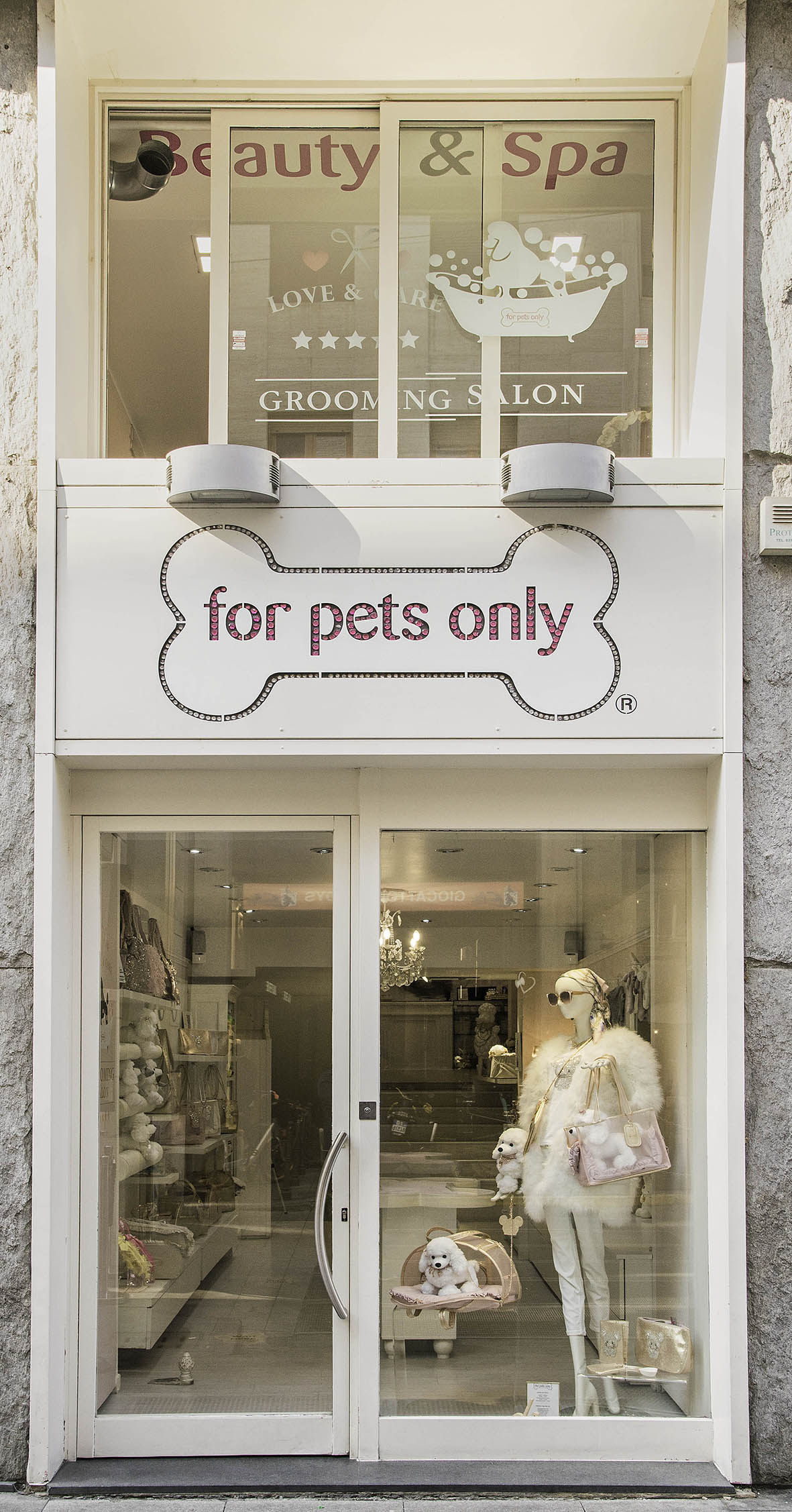 For Pets Only s.r.l. is a leader in the production and distribution of fashion accessories for our little furry friends.

Founded in 1998, in Milan, by Silvia Savi, the company very quickly established itself in the industry, providing its products and services to a selected range of highly demanding Customers. The company distinguishes itself thanks to the quality, the originality, and the uniqueness of all its products.

For Pets Only's collections are designed and crafted in its workshop in Milan, and Customers are presented with two collections per year: a summer collection and a winter collection. However, smaller Capsule and Limited Editions are also offered throughout the year.

The garments are all hand sewn, moreover, the company's corporate structure and the constant attention given to its Customers' needs allow for unique and tailor-made items. For Pets Only exclusively selects the finest Italian fabrics for its creations, all the accessories are hand stitched, never glued, and the metals used are nickel-free. The company's policy is to only select the best materials and fabrics for its creations, materials and fabrics often only used in fashion, and therefore to only use natural fibres such as cotton, wool, and cashmere.

The first For Pets Only corner store was inaugurated in 2001 within the famous and legendary Fiorucci multi-store in Milan, an unprecedent event.

Silvia Savi is an avantgarde entrepreneur-stylist who has successfully combined two great passions: her love for animals and her interest in anything that is fashion and trendsetting.

With a remarkable work experience in marketing and Customer care, and a significant experience in volunteering at animal rights' associations, Silvia Savi followed her two great passions and in 1998 created For Pets Only, thereby transforming her passions in a true profession. "I started out purely because, loving my dogs, I used to make up clothes and accessories for them, inspired by the fashion at the time. This idea went down so well with my friends that suddenly I was overwhelmed with requests".

In addition to owning the company, the Boutiques & Spas, Silvia Savi also personally designs all the For Pets Only collections. Her creativity is captivating, her experience is international, her energy is endless, her patience is infinite, her vision is precise, and her generosity is unique. All these qualities are contained in all her creations.

Customers have higher than ever expectations and are constantly looking for novelties, Silvia Savi is able to satisfy each and every one of them, surprise them and fill them with joy. Loving animals is good thing and dreaming with them is simply great.

The huge success of the corner store encouraged Owner, Silvia Savi, to open the first "flagship store" in the very heart of Milan. Inaugurated in September 2003, the Boutique was an immediate success. The Boutique is entirely dedicated to its brand, all rigorously "Made in Italy", but also offers a careful selection of other items, the result of a constant worldwide high standard research.

The Limited Edition collections are not to be missed, nor is the For Pets Only Beauty & Spa, a luxurious beauty salon for our little furry friends set within the magnificent Boutique. Cast aside the idea of a traumatic and hurried bath time, instead imagine a unique atmosphere reigning in a soft ambience with relaxing music and scented candles, far from all the city's hustle and bustle.
A variety of treatments are available and selected to suit any particular need our little furry friends might have.
THE BOUTIQUE IN MONTE CARLO

January 2014 saw the opening of a very luxurious Boutique in the legendary "Carré d'Or" of Monte Carlo. A Boutique offering the full range of For Pets Only items and accessories for all our beloved little furry friends.

For Pets Only MC is also a beauty salon where love and respect for animals always come first.

All treatment sessions are by appointment only, nothing is ever rushed, just one furry friend at a time, welcomed in a gentle and considerate way, thereby ensuring a comfortable and relaxing moment for them.